I received my Bachelor of Arts degree from Wesleyan University. A graduate of the Institute for Integrative Nutrition, I received counseling certification through Columbia University's Teacher's College and the American Association of Drugless Practitioners. Completion of the Integrative Nutrition Immersion Graduate Program followed.
MY STORY
I have had a long romance with sugar.
I was raised by a nutritionist who introduced me to the Jolly Green Giant but the Poppin' Fresh Dough Boy made a stronger impression on me.
My Easy-Bake-Oven fueled a passion for sugary treats. Despite admonitions to eat a rainbow, my own spectrum included a blue box of Oreo® cookies and a yellow bag of Peanut M&M's®. This lifestyle offered short-term satisfaction and eventually led me down a path of sugar addiction, yo-yo dieting, binge exercising and stress eating for years.
My well cultivated sweet tooth fed a pleasure for baking. I started selling my country kitchen-style fruit and vegetables breads, butter cookies and dessert bars locally. One summer I found myself in the retail kitchen of The Barefoot Contessa, Ina Garten in Easthampton, NY. I helped the head baker prepare Ina's famous pies and merchandised the shop's bakery for throngs of seasonal customers. This was the catalyst for pursuing my own entrepreneurial dream - opening a high end food gift boutique. And shortly, Ronna's Sweet Necessities in Scarsdale, NY was born. Now I had access to my vice – sugar at wholesale!
The entrepreneur life was for me. Working dawn until dusk and sometimes into the night, I was living my passion. I grabbed sleep when I could and placed the shop ahead of my health.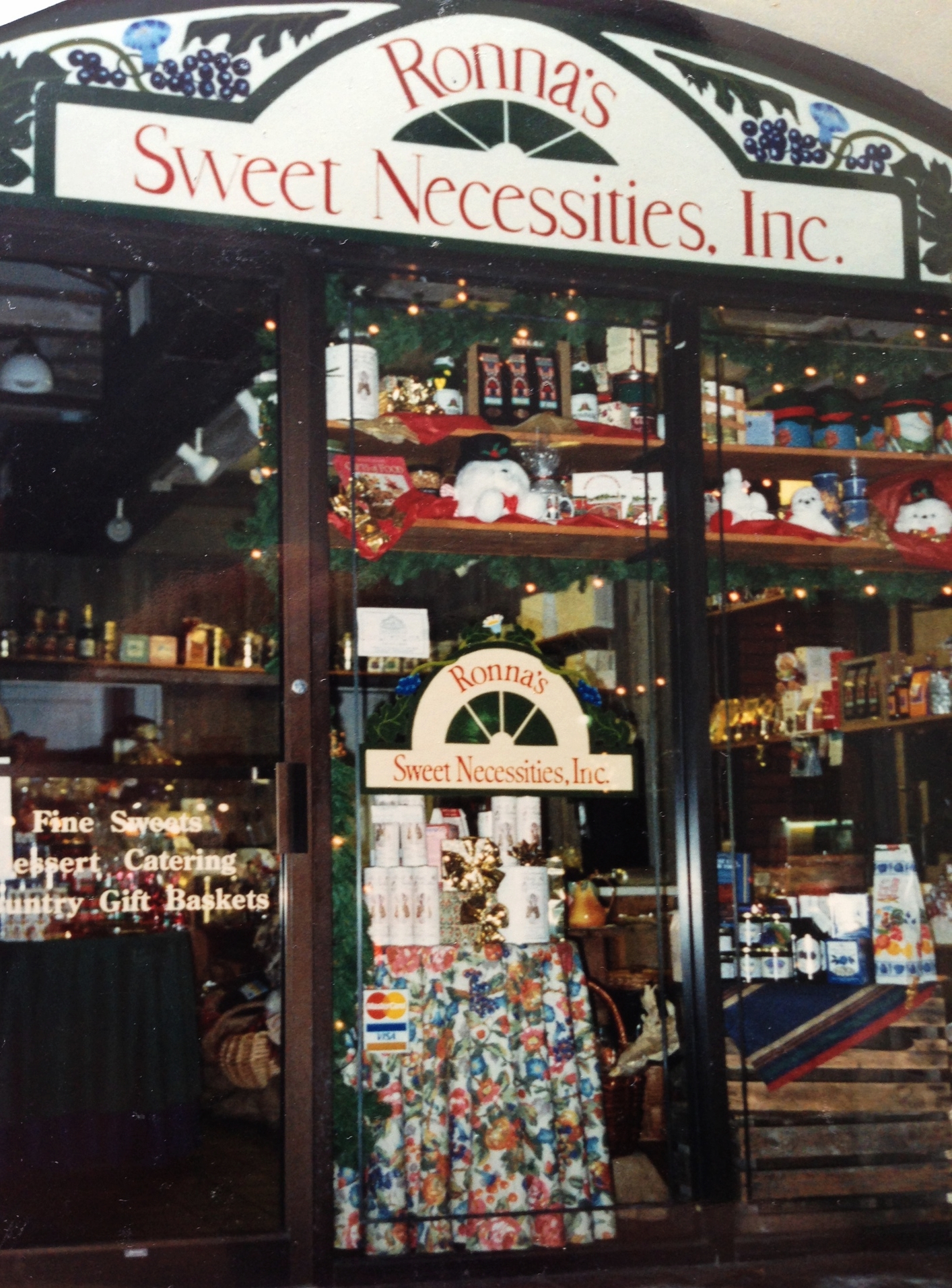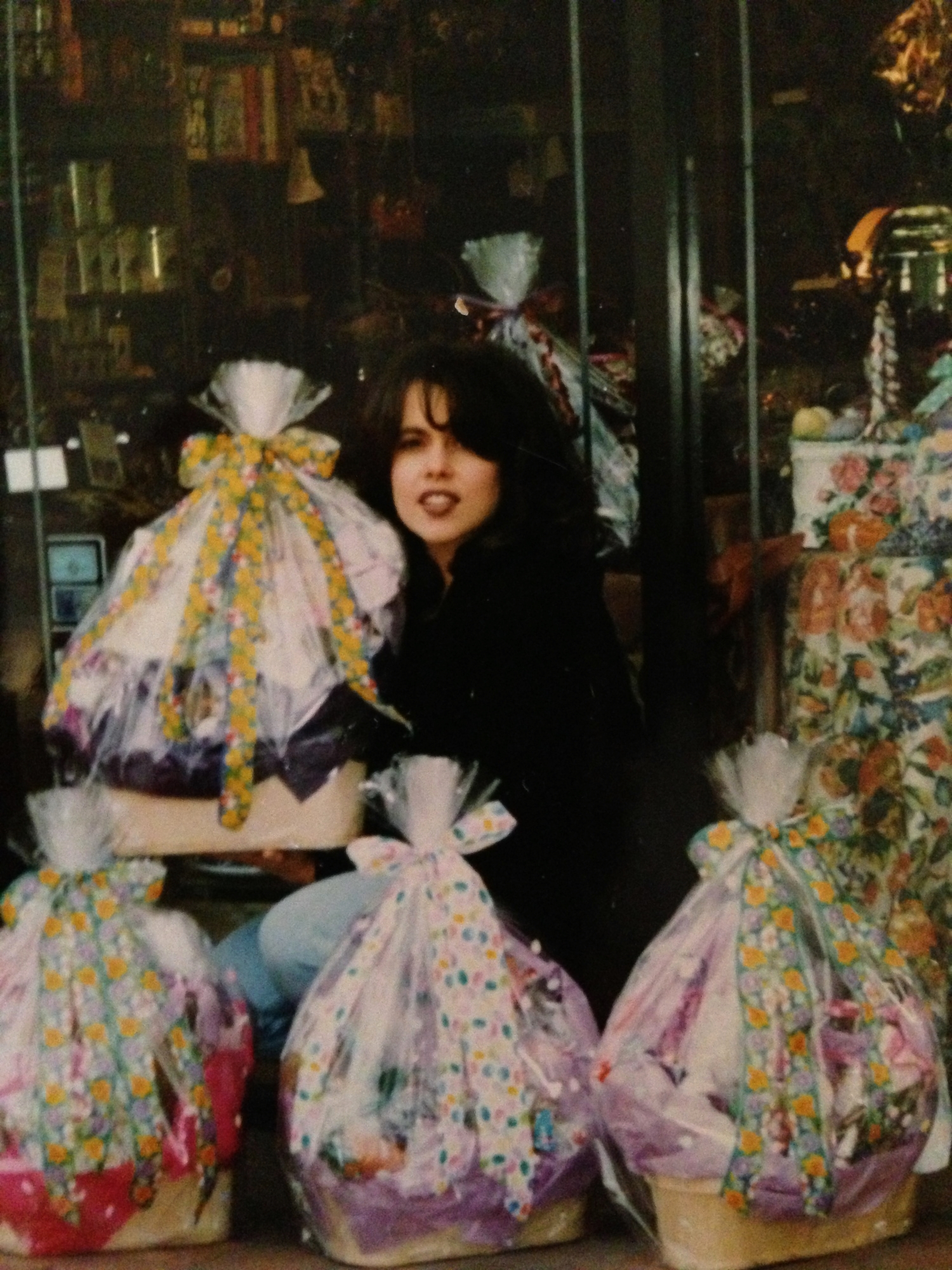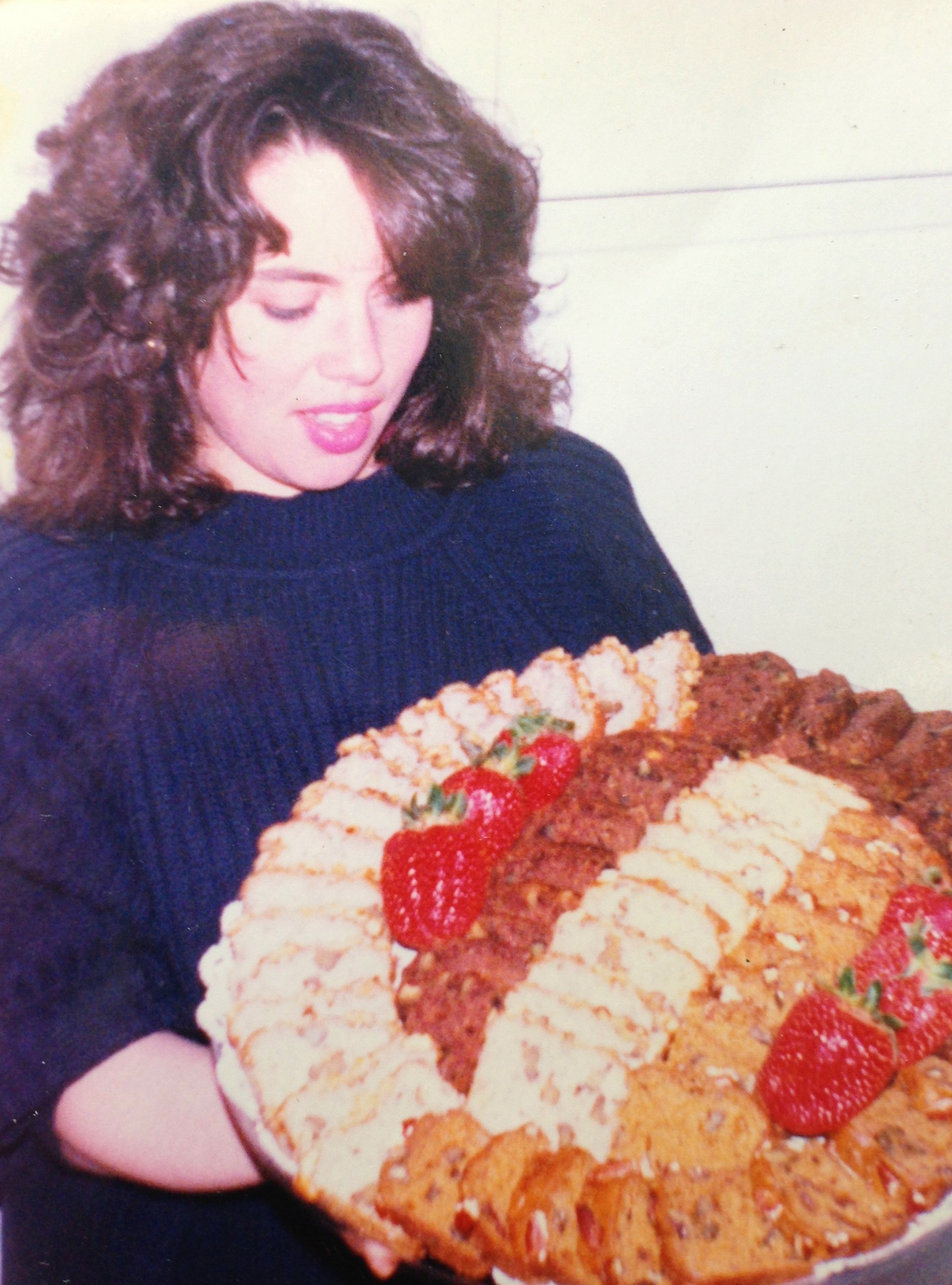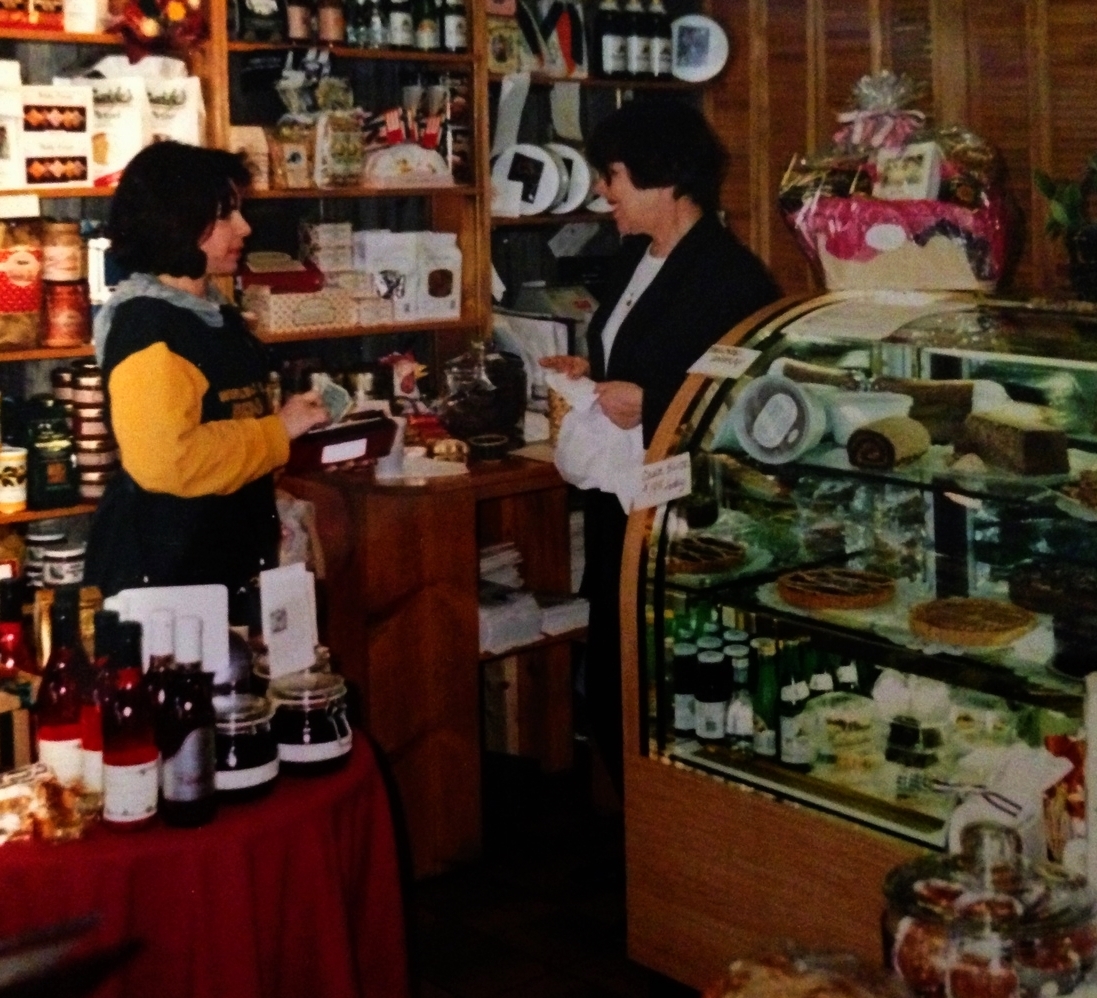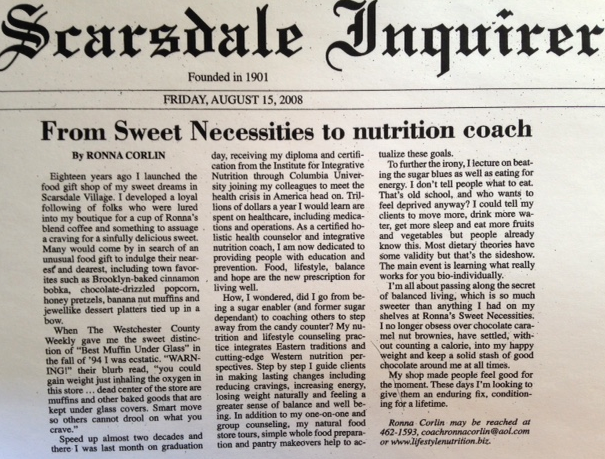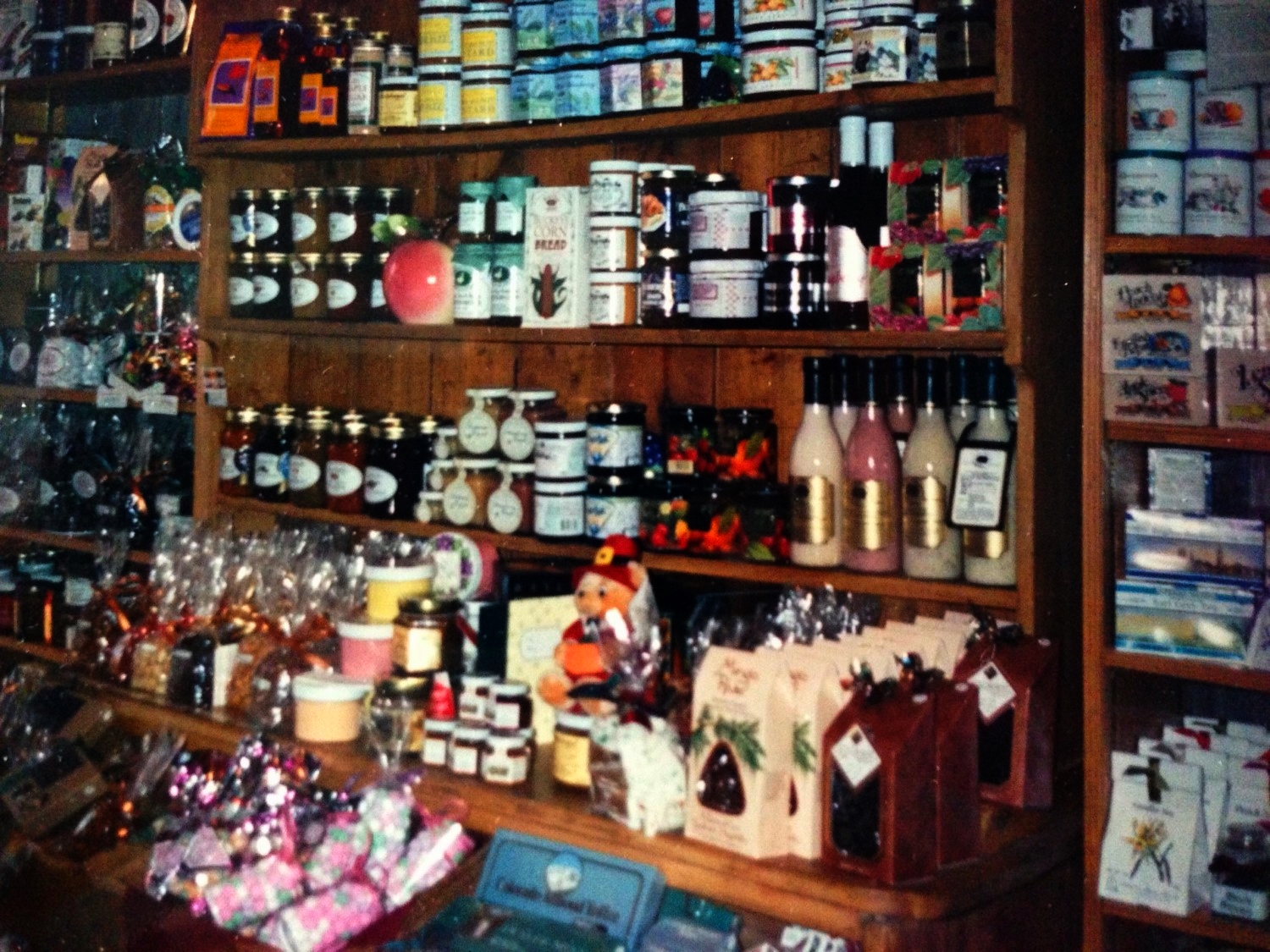 click arrow to see more images
Ronna's Sweet Necessities featured fine sweets, dessert catering and custom gift baskets. The luxe gourmet gifts (pictured above) were Easter baskets presented to then New York Mayor Rudolph Guiliani & family at the Radio City Music Hall Easter Extravaganza.
My next candy-coated adventure led to the development of a gourmet food channel of business for 1-800-Flowers, just before the dot com boom. My desk was constantly piled high with tasting samples from around the country and abroad. From freshly baked Mrs. Field's cookies to bottomless tins of caramel corn, cinnamon coffeecake (that competes with Grandma's recipe) and everything chocolate-dipped, I was deep into what I would later discover has all the markings of a recreational drug. It's known as white table sugar. I traveled internationally to French cookie companies, German biscuit fairs and Belgian chocolate factories. I was wined and dined. Yet, instead of reveling in this gastronomic wonderland and Willy Wonka existence, all I wanted to do was nap under my desk! Busy days began and ended with a fill up at Starbucks. Hot chocolate was my jam. Extra sweetened whipped cream on my steamed milk with vanilla-flavored syrup and chocolate-flavored drizzle took the edge off frenetic days, but at what cost?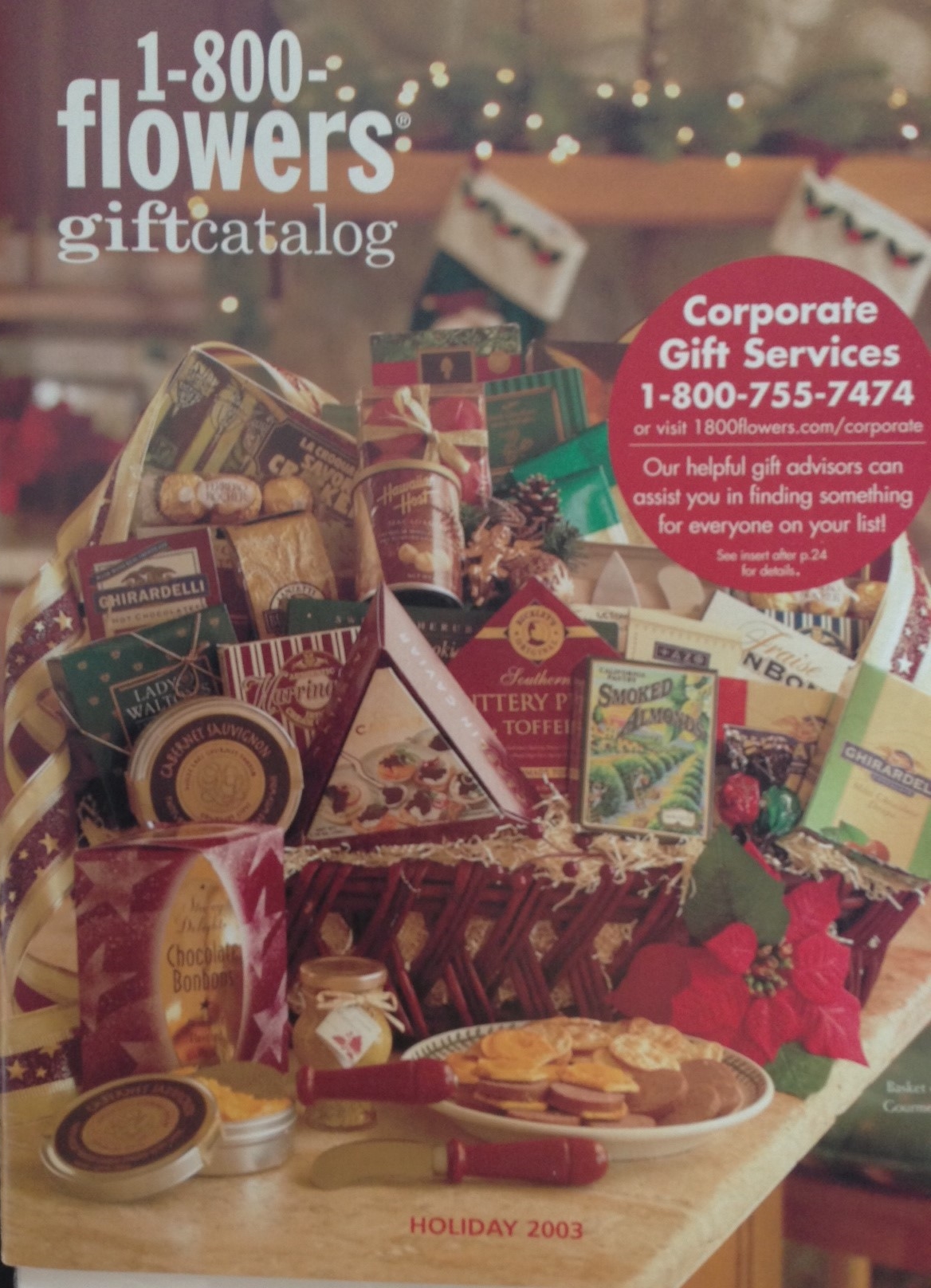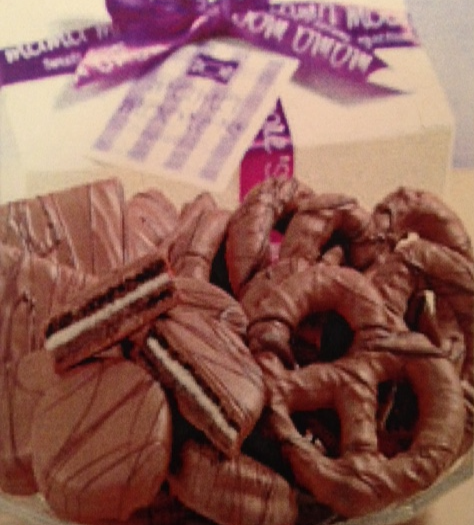 click arrow to see more images
As Sr. Product Manager at 1-800-flowers.com I was tasked with the development of an international supplier network, building a privately branded sweets line and delivering a food gift assortment seasonally to be drop-shipped direct-to-consumer.
My weight and my energy suffered. I had a healthy paycheck but a life out of balance. I needed to upgrade and I did just that.
I left my days in a sugar haze behind me and began a journey inward. Back to school I went for holistic nutrition. This led me to prioritize my health and fired a desire to then share my playbook, so that others might discover the freedom fueling the day with high octane choices can bring. While getting board-certified in integrative nutrition I would study under masters in functional medicine, nutrition and mind-body healing. Soon I discovered that treating the 'whole' person rather than their 'parts' or symptoms - excess weight, chronic fatigue, poor digestion and food addiction changes lives.
Invited to join a national team of healthy eating specialists at Whole Foods Market, I supported the launch of their national healthy eating program. Guided then, by an esteemed medical advisory board, I took direction from notable 'food as medicine' physicians including Dr. Caldwell Esselstyn of the Cleveland Clinic (and President Clinton's plant-based supporter in the fight against his heart disease diagnosis), Dr. David Katz, founding director of the Prevention Research Center at Yale University, Dr. Neal Bernard, founding president of the Physician's Committee for Responsible Medicine, and Dr. Joel Fuhrman, renowned family physician and nutritional researcher advocating micronutrient-dense eating for disease prevention and natural weight loss. I'm quoted in this article which covers the launch of this healthy eating initiative: Lifelong Health Starts Here at Whole Foods Market.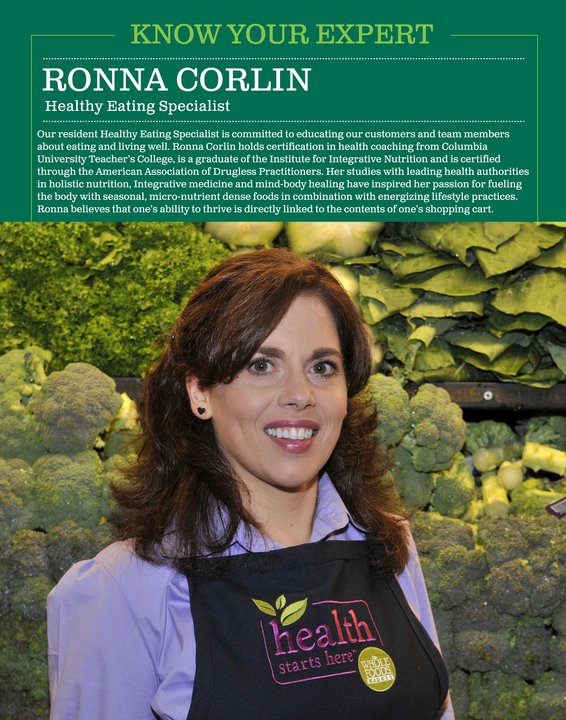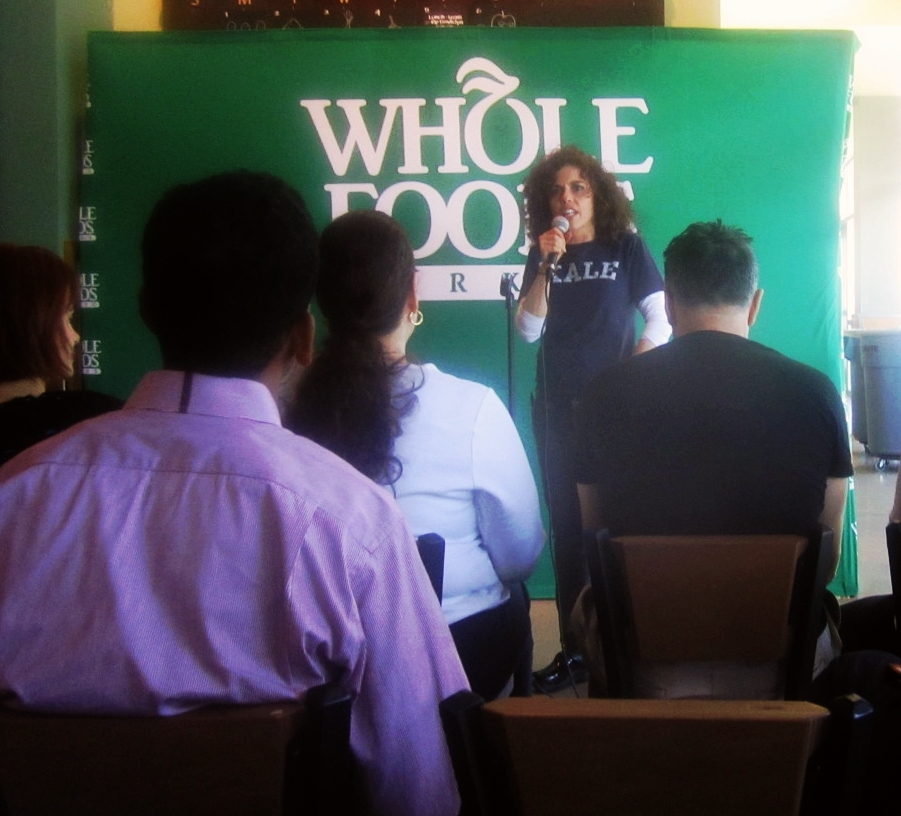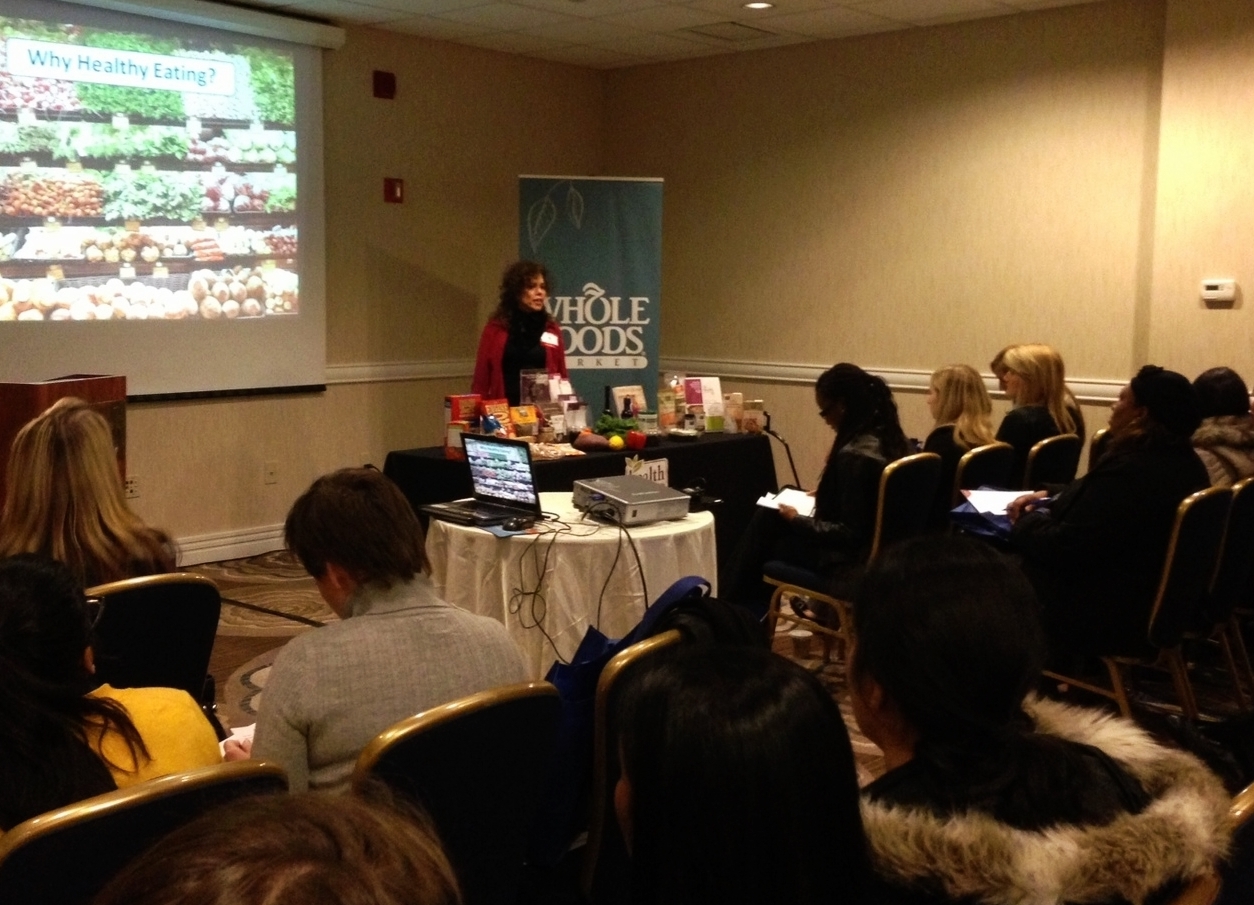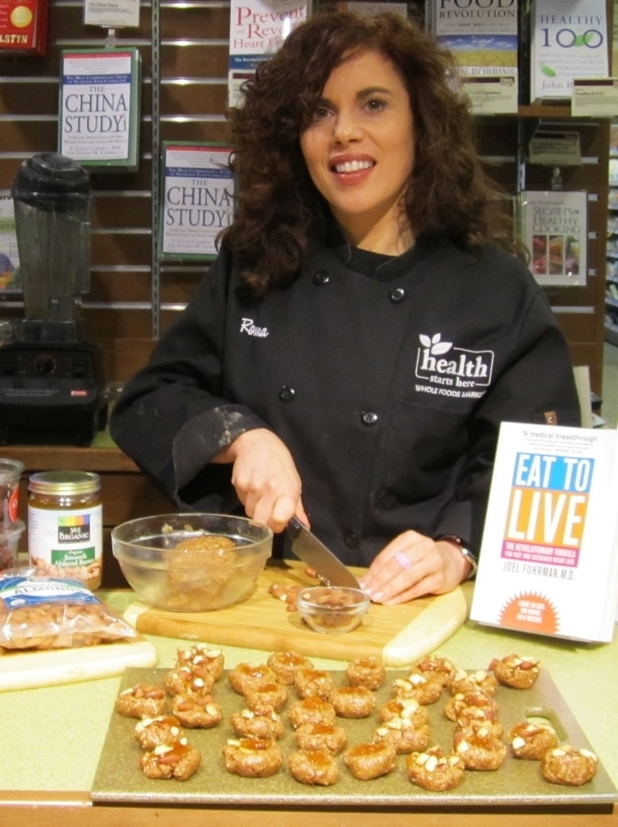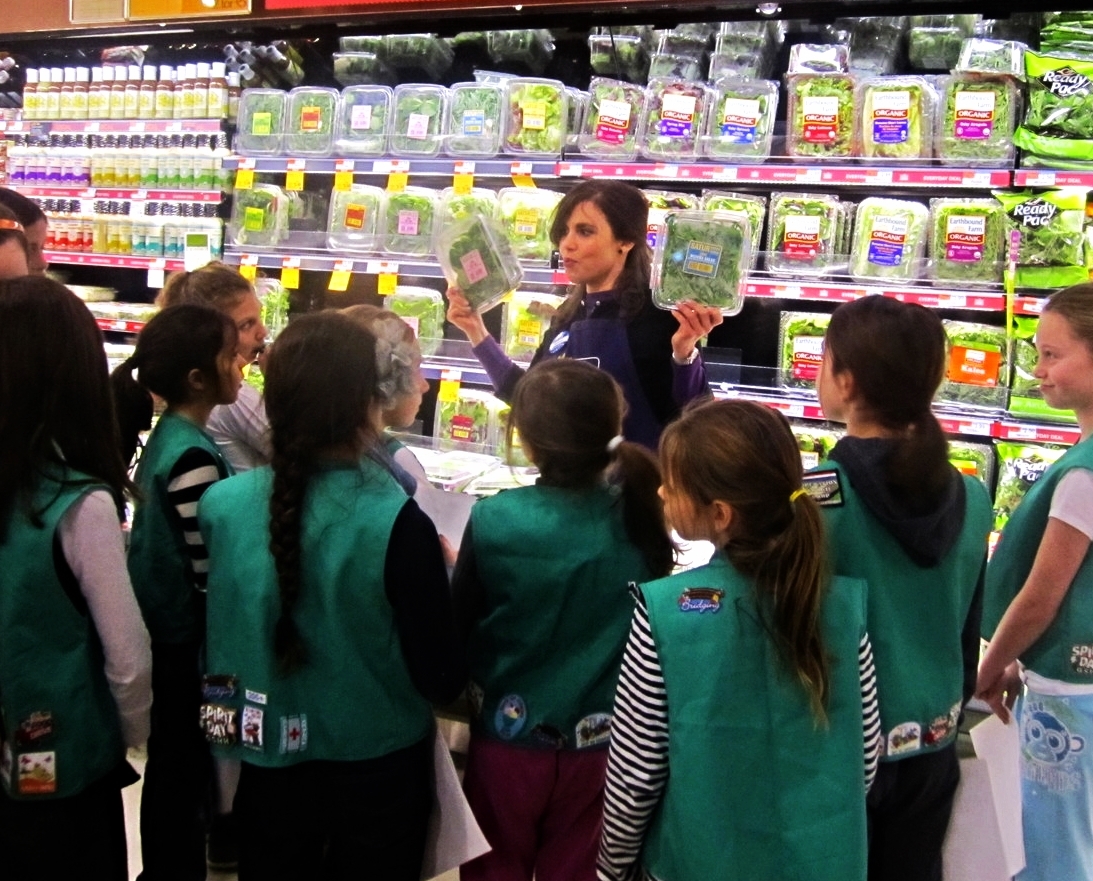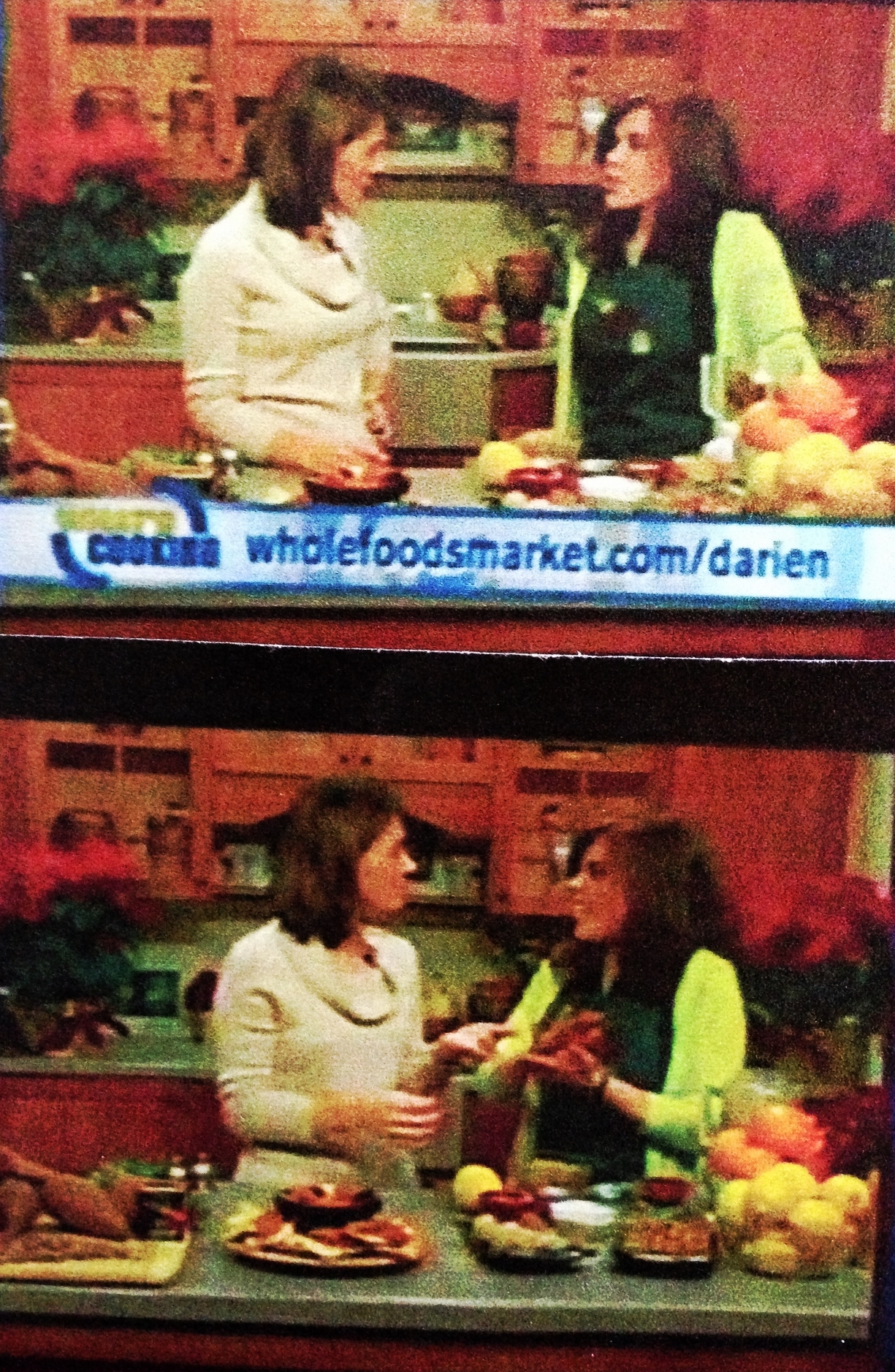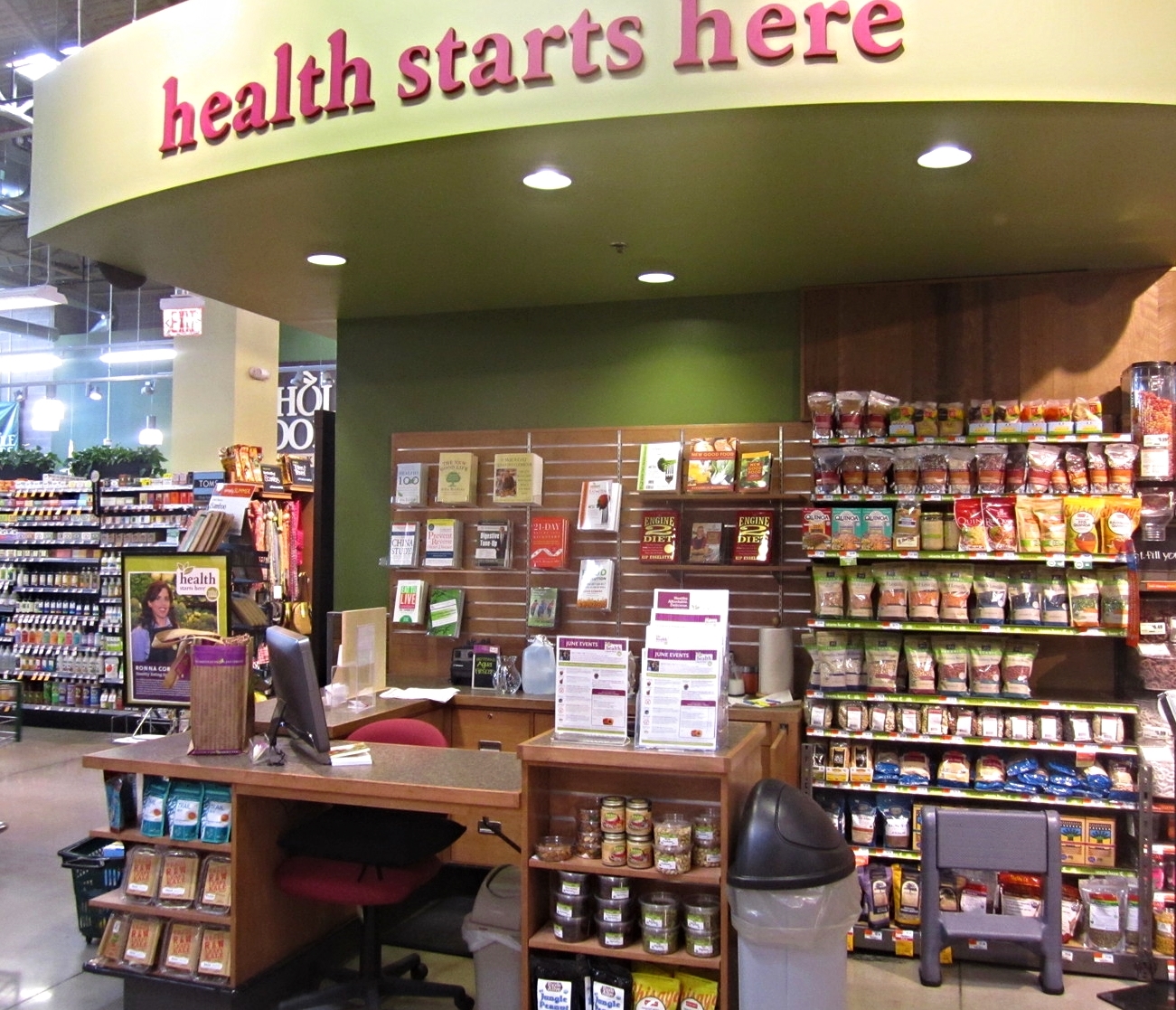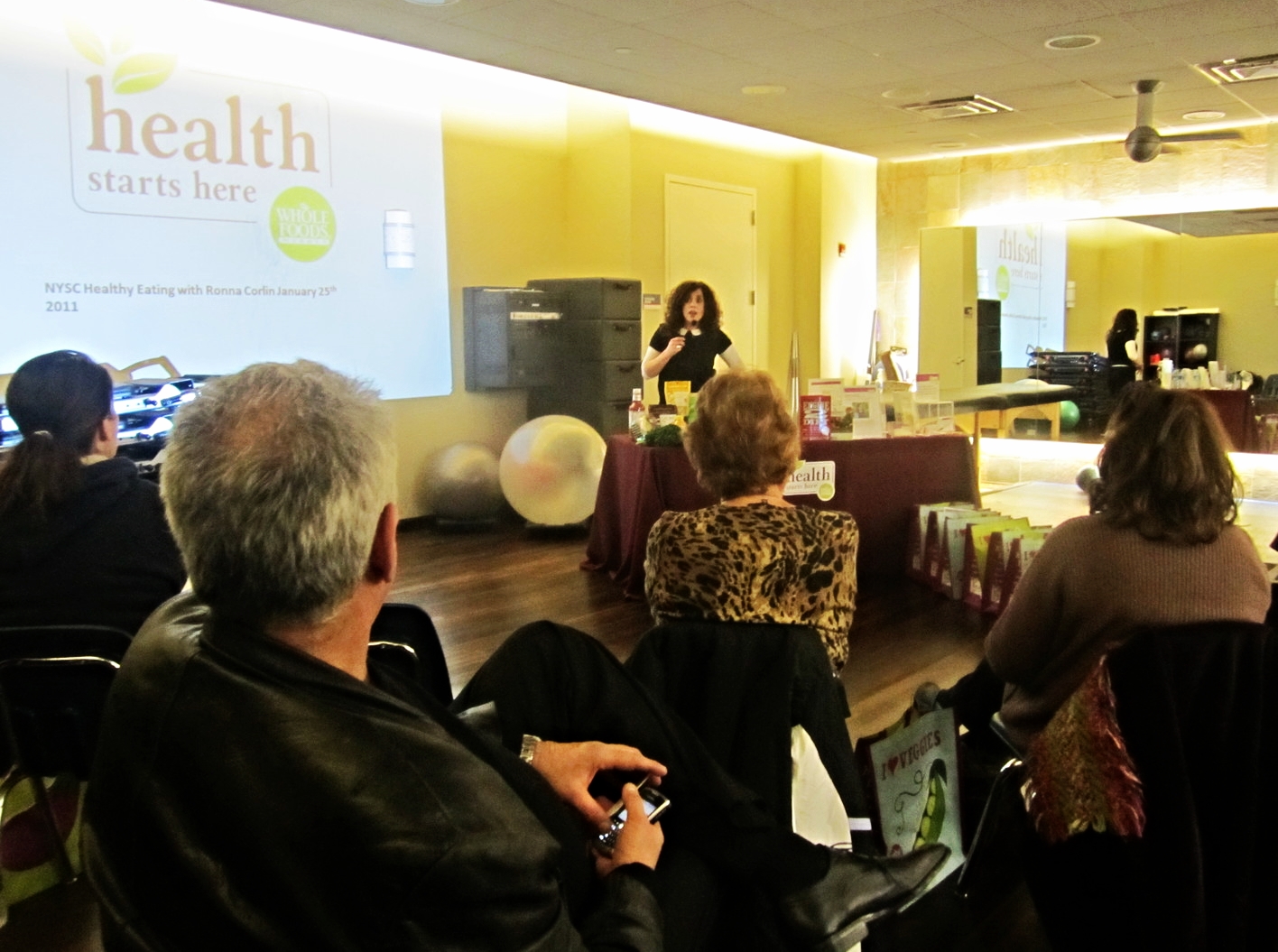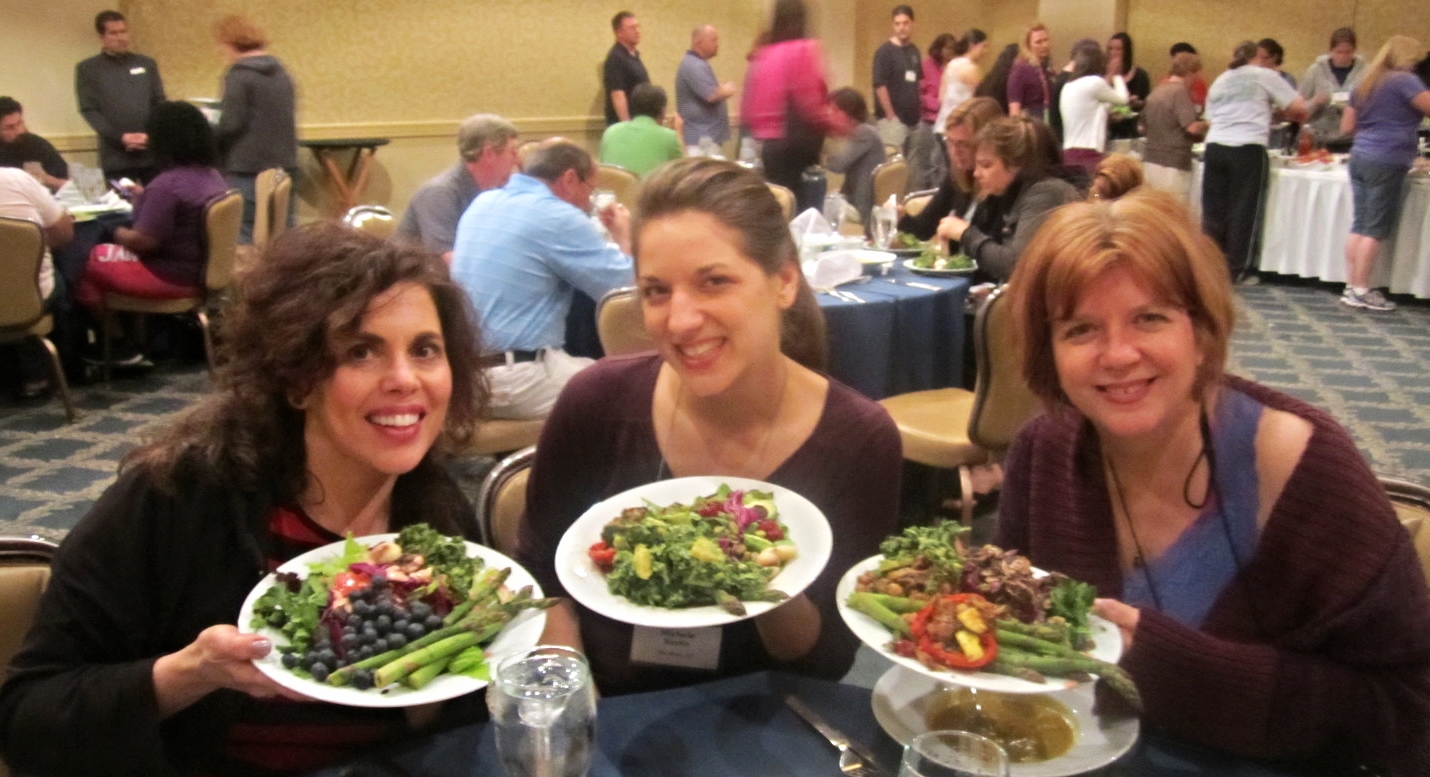 click arrow to see more images
While healthy eating specialist for Whole Foods Market my job was to motivate customers, team members and community to reconfigure their plates in favor of fresh, local, seasonal, nutrient-dense, plant-strong real food. My strategies for making healthy eating a lifelong habit included culinary support, educational talks, market tours, media training (pictured: Appearance on News 12 CT's TV program 'What's Cooking') and continuing plant nutrition education (pictured with Joel Fuhrman, MD and fellow educators.)
While attending a health immersion I cracked the code of my own limited thinking. I learned about a style of eating that would not only promote good health but would take mine to a whole new level. For me this proved transformative. Now free of chronic cravings and toxic hunger, I'm able to make conscious, whole, plant centered food choices without sacrifice. Endless stores of energy have become my new normal. Now I thrive.
And the plant-powered life continues to fuel my deepest desire to help others to upgrade their own lifestyle choices and be transformed through the process.
Read more: How A Body Can Be Better After 50,
MY INFLUENCERS
My holistic training has included studying with thought leaders and masters in Integrative medicine and science-based eating for health. Here are just some of the thrivers who have inspired my journey.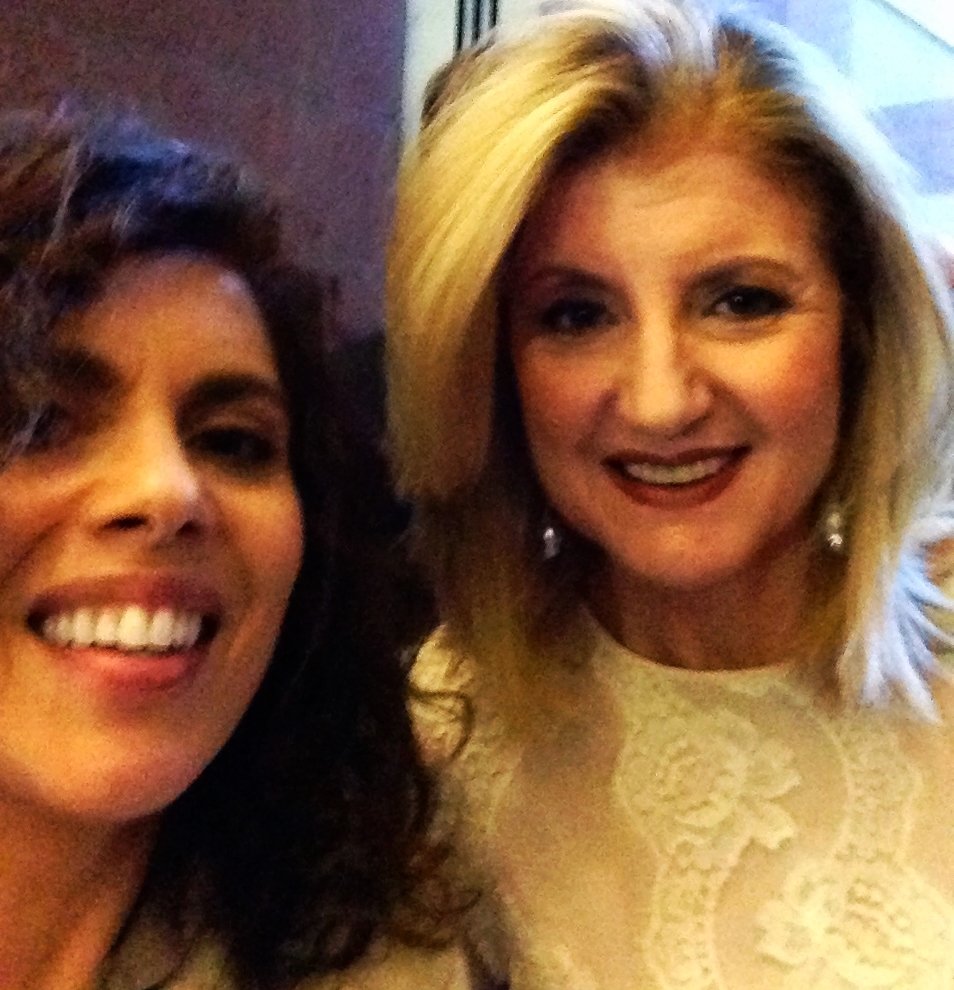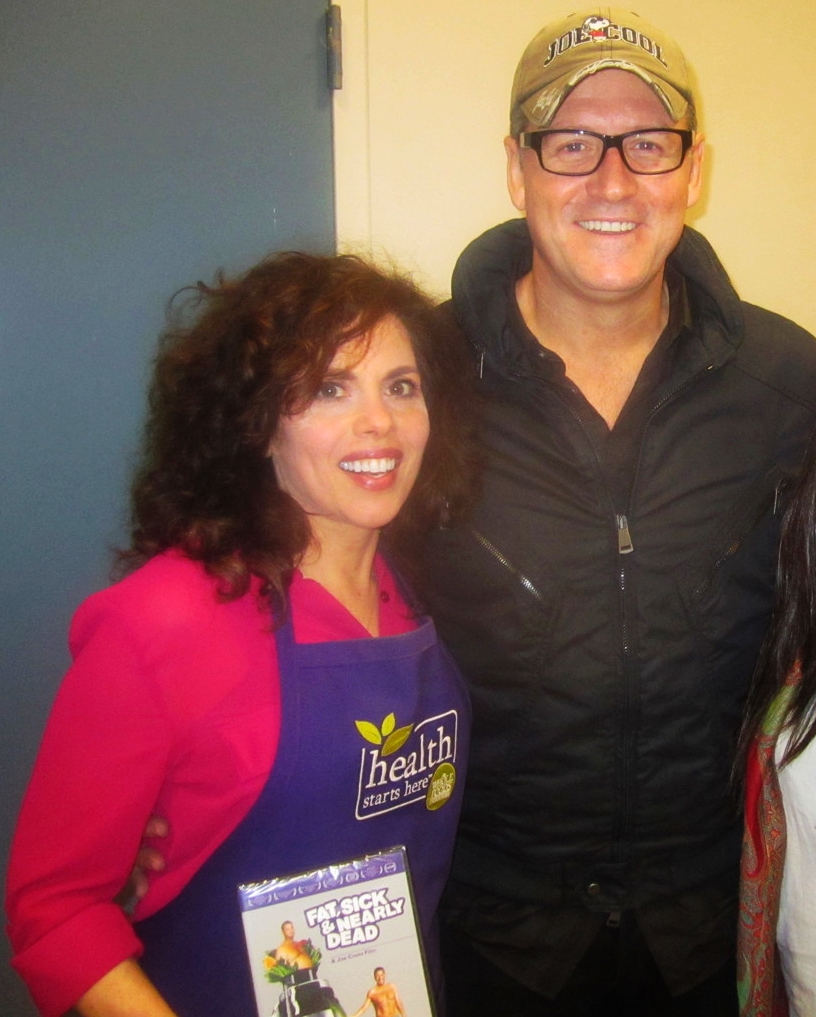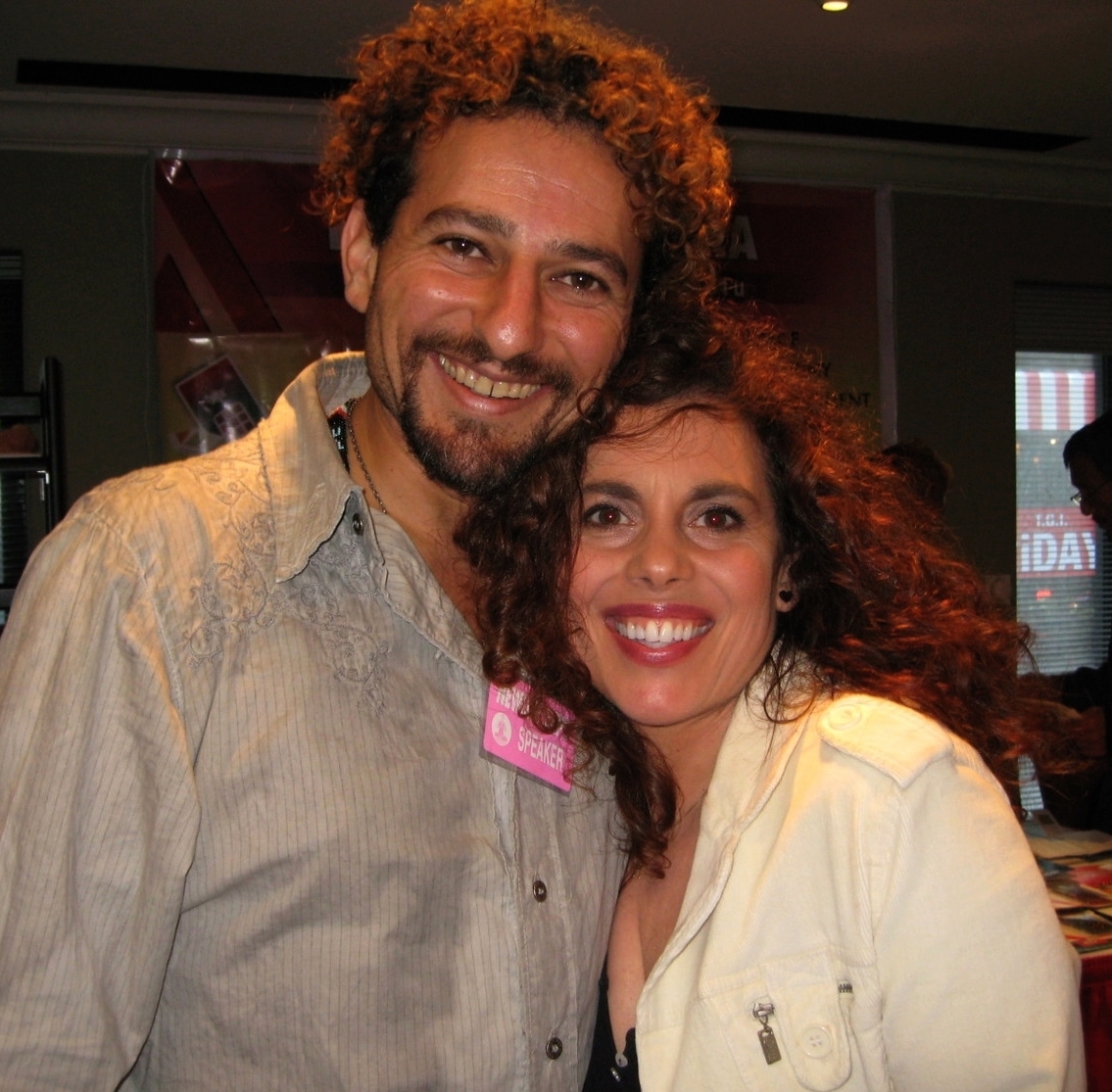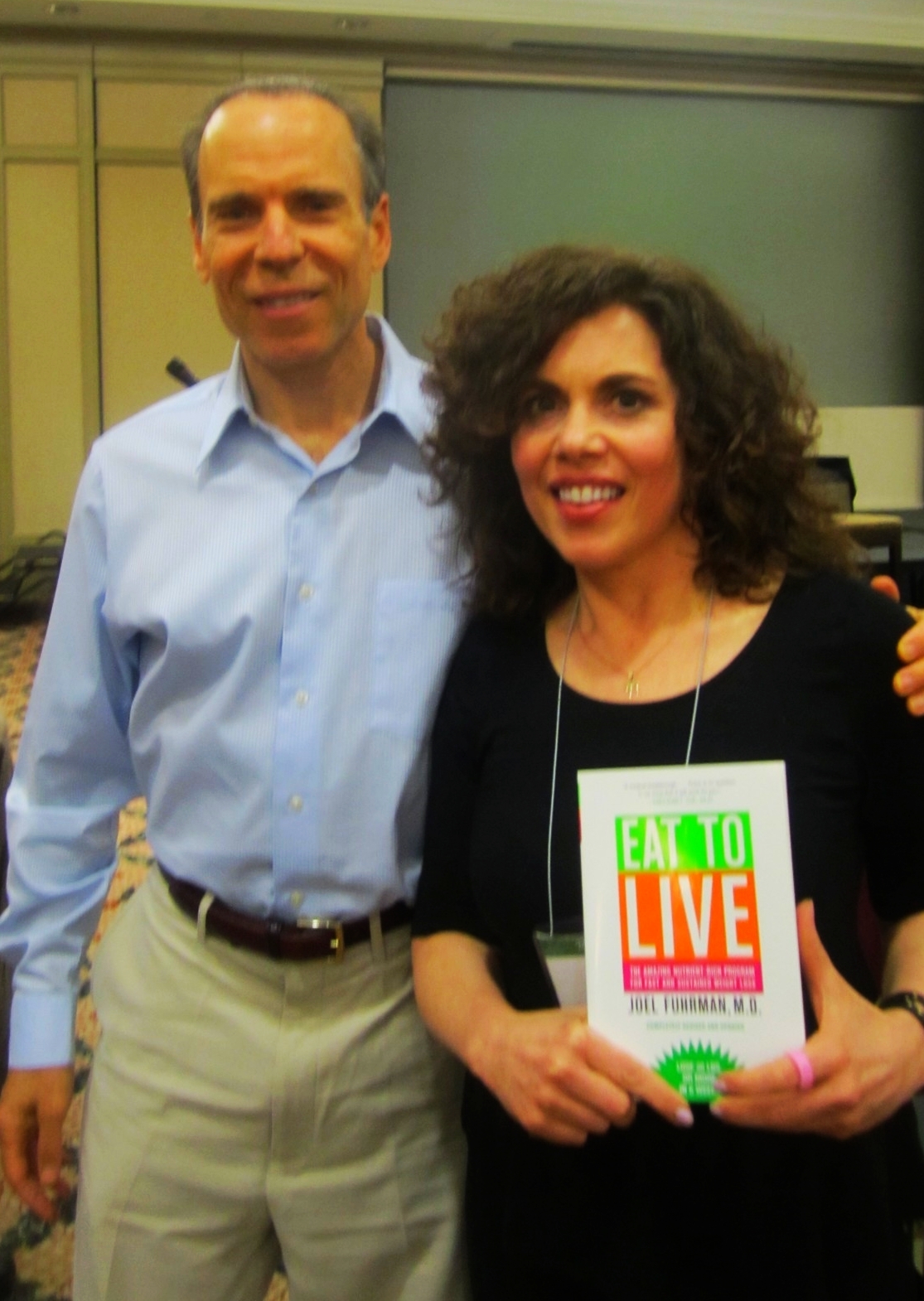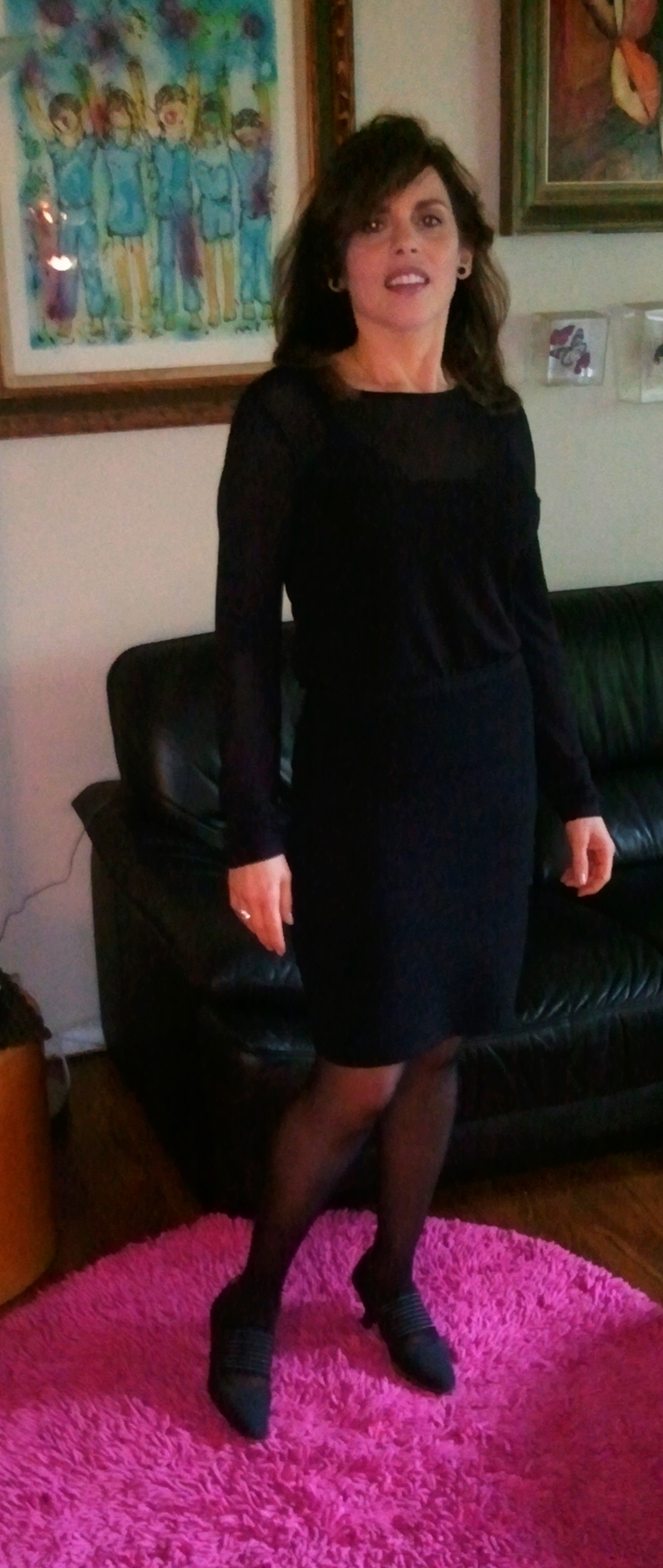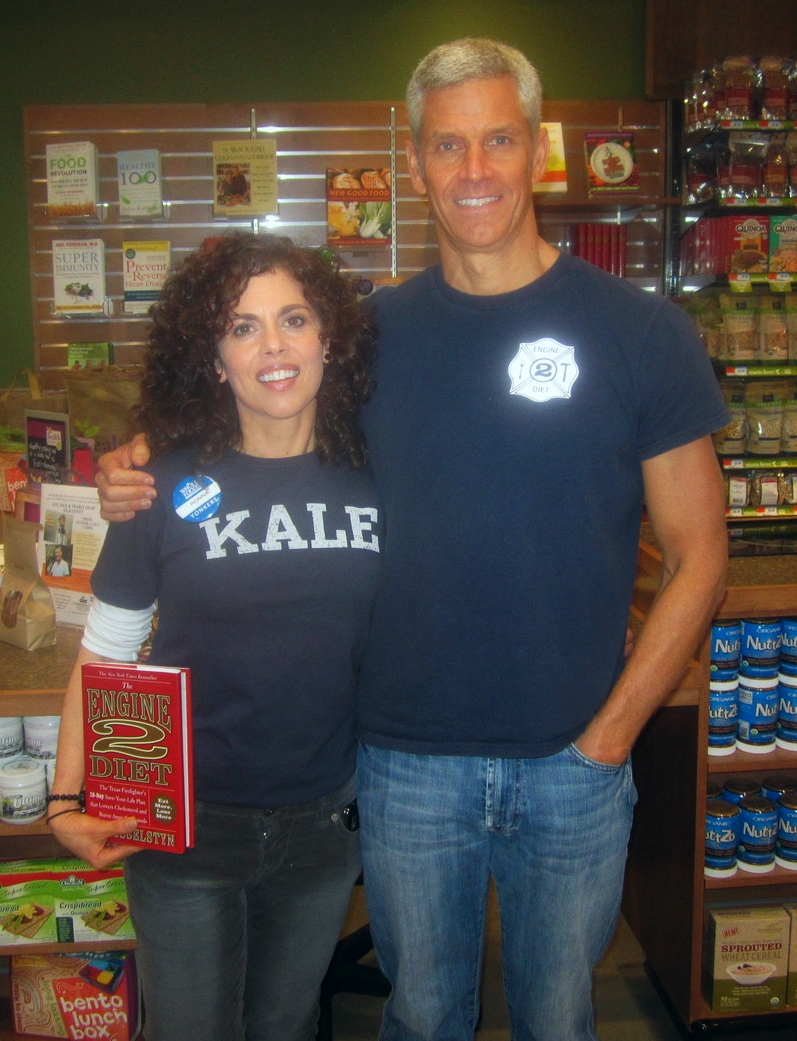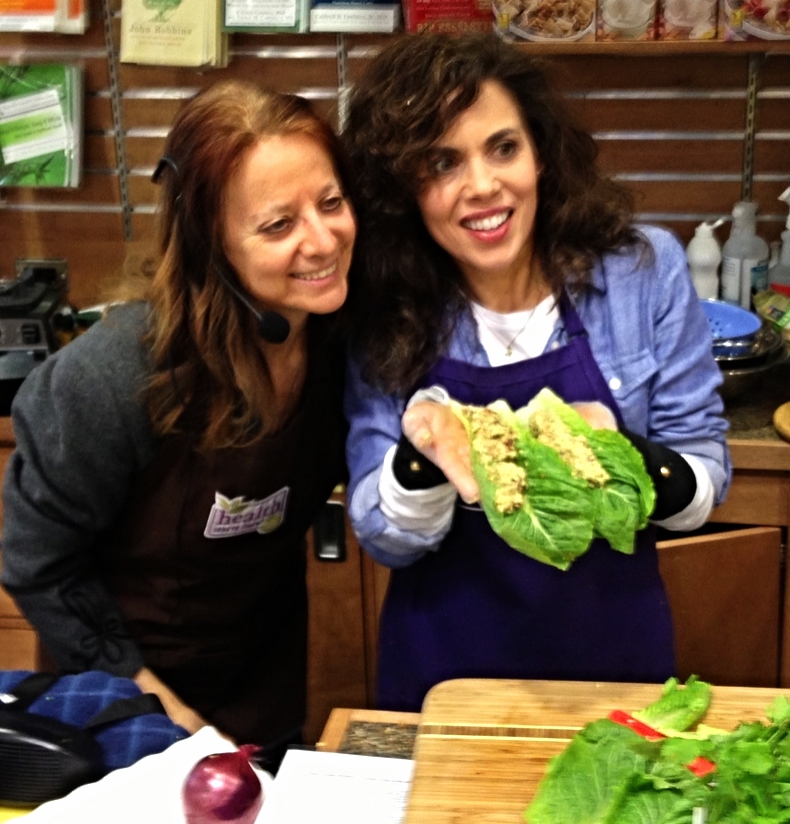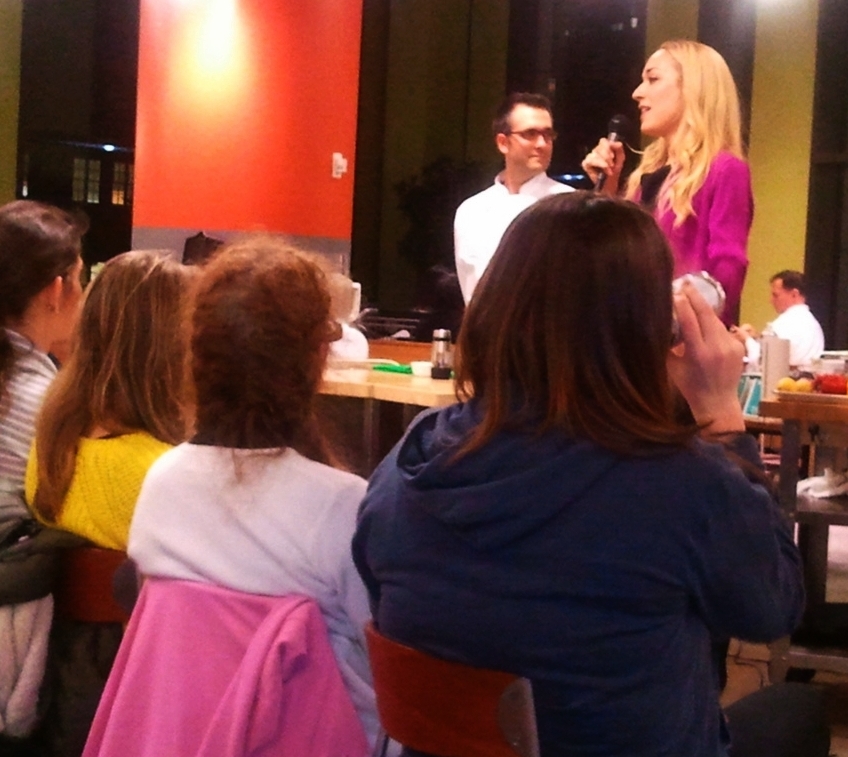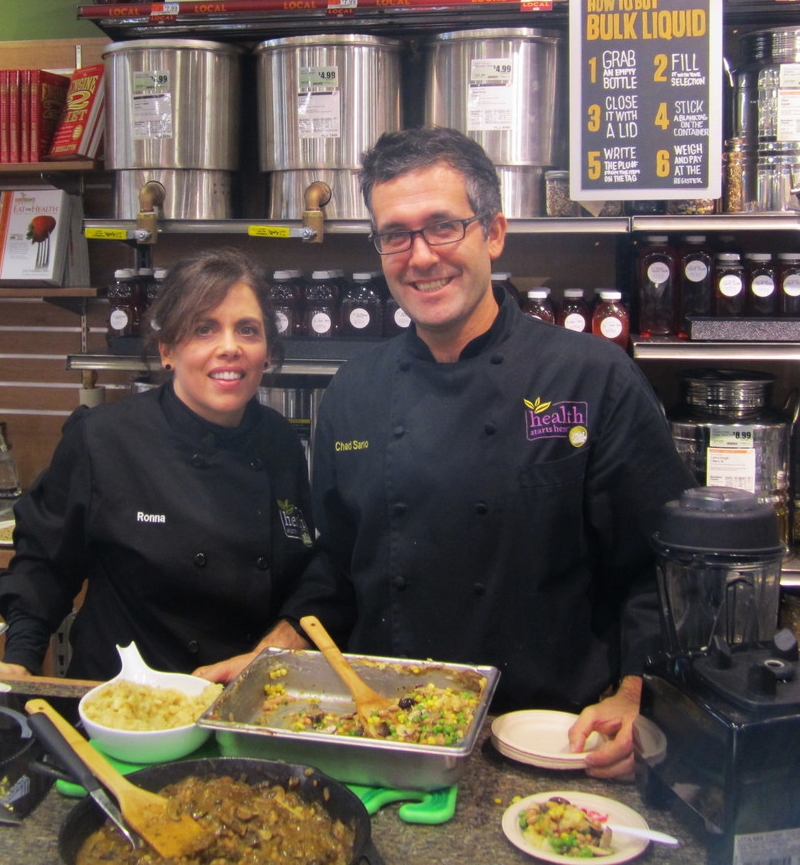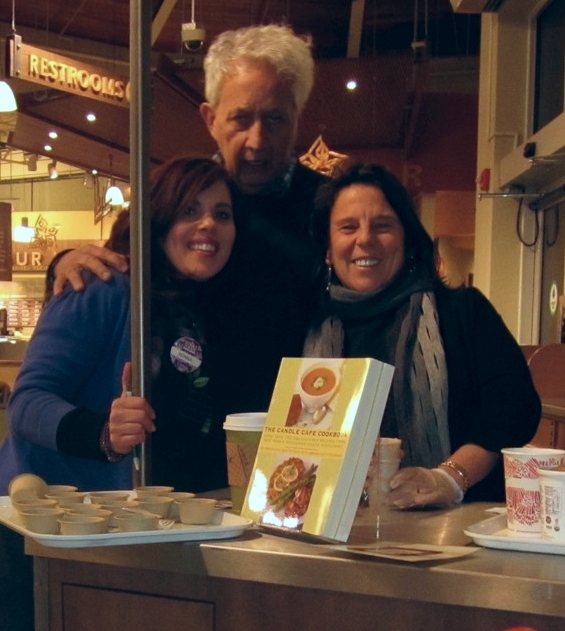 click arrow to see more images
Huffington Post's CTO (Chief Thriving Officer) / author of 'Thrive' Arianna Huffington, Fat, Sick & Nearly Dead film director Joe (The Juicer) Cross, rock star of the superfoods and longevity world David 'Avocado' Wolfe, fellow nutritarian and 'Eat to Live' author Dr. Joel Fuhrman, former firefighter, triathlete and 'Engine 2 Diet' author Rip Esselstyn, raw food expert / author of 'Creating Healthy Children' Karen Ranzi, wellness activist Kris Carr and self-proclaimed plant pusher chef Chad Sarno / co-authors of 'Crazy Sexy Kitchen Cookbook', yours truly assisting chef Chad launching healthy eating education at Whole Foods Market, brand enthusiast / former head of Virgin Brands North America Julie Cottineau and trailblazing vegan restauranteurs / authors and co-founders of the Candle Candle Brand Group Joy Pierson & Bart Potenza.